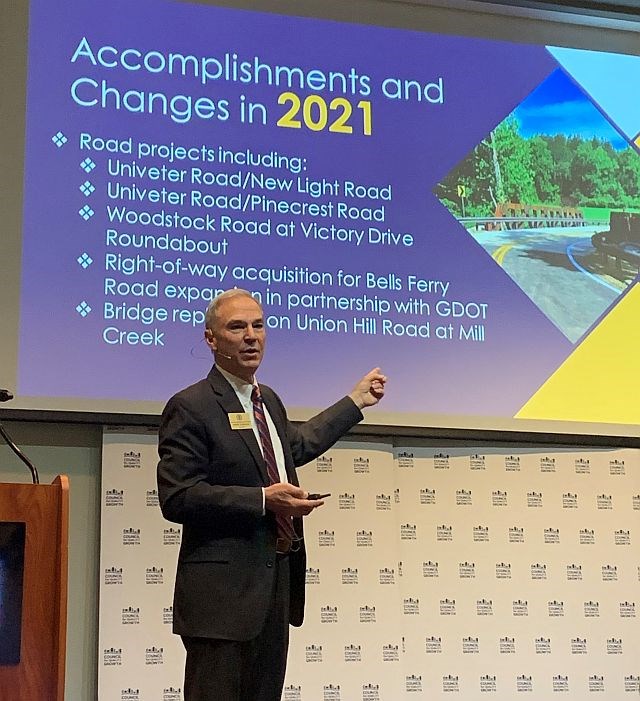 Harry is a proven, professional leader dedicated to controlling the growth and protecting our quality of life. As a CPA and retired accounting executive, he has the knowledge and skills to continue to keep our county taxes the second lowest in Georgia while ensuring our county services are among the best in the state.
Cherokee County is an Absolute Treasure under Harry's Leadership. We can't risk losing that treasure.
Before being elected as Commission Chairman in 2018, Harry served 14 years as District 1 Commissioner. His experience and knowledge of Cherokee County is invaluable, and he works effectively with other commissioners and leaders to get the job done. As a CPA, Harry has consistently functioned as the financial leader of the Board.
Here are some of the county's accomplishments during Harry's 18 years of leadership:
Financial Accomplishments:
Cherokee County indisputably provides the best value to taxpayers of any county in Georgia

. Combined sales and property taxes controlled by the Board of Commissioners are literally the second lowest in the state. Yet our public safety, parks, and other services are among the state's best. Harry's consistent financial leadership has been a key factor in that tremendous success.
Harry implemented the county's first long-term financial planning in 2001, to anticipate and meet financial needs without tax increases.
Harry led the adoption of a property tax assessment freeze for homeowners. For the primary BOC-controlled property tax, your net assessment won't increase as long as you own your home.
AA+ credit rating. Little debt, only the remainder of a voter-approved parks bond 12 years ago. Unlike most counties, Cherokee County does not borrow money to fund operations.
Growth Management:
Harry was

one of the earliest and has been the county's most consistent leader for conservative growth

management

to protect and maintain our precious and increasingly rare small-town quality of life so near a major metropolitan city.
Harry led the adoption and consistent maintenance of a responsible-growth county land use plan calling for more than half the county's land area to be held to the rural density standard of no more than one home per two acres.
Since slower-growth forces gained ongoing control of the Board of Commissioners in 2007, the overall average annual

population growth rate has been reduced below 2.2%, from more than 4.5% previously

. In unincorporated areas controlled by the BOC, growth has been reduced to about 1.4% per year, down from about 3.7%.This is in spite of continued high demand, driven by the desirability of Cherokee County and our continued high quality of life. City growth rates remain on average about three times as high as those in unincorporated Cherokee County.
Harry is working to find better solutions to annexations by the cities that often bring high density development. Harry continues to fight for stronger state annexation laws to allow counties more ability to block inappropriate city annexations. He has sought and recently achieved working relationships with Holly Springs and Woodstock leadership to limit their annexation, while continuing to maintain good relations with the other cities. When necessary, he supports filing suit to stop egregious city annexations.
As other fast-growing counties have surrendered to the development pressures, Harry and other responsible-growth commissioners have positioned Cherokee County for a

uniquely exceptional future

!
Public Safety:
During Harry's leadership era, the Cherokee Fire Department moved from mostly volunteer when he took office in 2000 to a fully professional department recognized as one of the best in Georgia today. The Fire training facilities and program have become the state-wide benchmark of excellence. The ISO (insurance) rating improved from 5 to 2, one of the best in Georgia for county-wide fire service. Residents benefit from the lower ISO rating with reduced rates for homeowners insurance.
The Cherokee Sheriff's Office became the first National Accredited Sheriff's Office in Georgia. Now "Triple Crown" nationally accredited, one of just 74 out of 3,143 counties in the USA. Funded equipment and personnel, including competitive pay.
E-911 Center has achieved national accreditation, one of just 56 in the USA. Out of 412,325 calls received by E-911 last year, 90% were answered in 10 seconds or less.
Cherokee's Marshal's Office is the only nationally accredited office and last year answered 3,265 calls for enforcement, and 3,085 animal control calls for service.
EMS Ambulance Service provides Advanced Life Support. Cherokee EMS has been recognized as best in region multiple times. The Fire Department is nearing goal of advanced life support capability on all Fire Trucks. The new accredited in-house Paramedic training program is one of just a few in Georgia.
Parks & Recreation:
From a modest park program when Harry took office in 2000, Cherokee Parks & Recreation has become nationally accredited and was recently recognized as the #1 program among large counties in Georgia! As district commissioner, Harry served as the commission liaison to the recreation board.
Park Property purchased for new Northeast Cherokee Park Site in Free Home in 2021, working now on plans to purchase property for a new park in Hickory Flat.
New Park facilities completed during Harry's time in Office (since 2000):
Cherokee Aquatics Center
Badger Creek Soccer Park
Hickory Flat Gym renovation (underway)
Cline Park and Splash Pad
Patriots Park
Veteran's Park (with indoor complex under construction now)
Mauldin Baseball Complex at Kenney Askew Park
Upgraded Baseball Complex at Hobgood Park
Garland Mountain Horse Park
Over 1,000 acres of protected green space, mostly along the Etowah River to protect our watershed.
Woodstock Multi-surface Trail along Towne Lake Parkway (under construction)
Plans developed for new parks in SW Cherokee. Funding in place for first phase of construction.
Helped fund city projects, including Etowah Park in Canton, Woodstock Trail Network, and park improvements in Ball Ground and Nelson.
Roads:
County Roads: Cherokee County is spending about $30 million per year on county roads. That includes 50 % of the county sales tax funds.

With no new taxes or debt, Cherokee County has mostly kept its local county roads up with tremendous growth in demand

. Although it's an ongoing battle, it's actually quite an accomplishment, and the work continues.

Recent and upcoming work on county roads (partial list):

Intersection improvements and signalization along East Cherokee Drive, including major upgrade of the southern intersection with Old Hwy 5.
Intersection improvements and signalization along Univeter Road.
Roundabout at Woodstock Rd. & Victory Dr.
Bridge replacement on Union Hill Rd near Marvin Land Lane
Bridge replacement on Lower Dowda Mill Rd.
Improvement and signalization of intersection at Sugar Pike Rd & Hwy 140.
Roundabout under construction at Birmingham Hwy & Holbrook Campground Rd.
Reconstruction of 3-way intersection of Bells Ferry at Kellogg Creek & Victory Drive coming this year.
Expanded local road resurfacing coming this summer.
County right-of-way acquisition almost complete for 4-laning of Bells Ferry Road up to Victory Drive and replacement of inadequate Little River Bridge. GDOT to fund construction within next 1-2 years.
Multi-use trail under construction along Town Lake Parkway.
Bridge Replacement on TransArt Pkwy., under construction.
Roundabout coming this year at Lower Birmingham & Sugar Pike Rd.
Roundabout coming this year at Union Hill Rd at Lower Union Hill Rd.
Bridge replacement coming this year on Union Hill Rd. near Hasty Trail.
Hames Road reconstruction coming this year.
Expansion of Trickum Road intersection with Hwy 92 coming within next two years.

State Highways - Georgia Department of Transportation is now spending close to $100 million per year in Cherokee County and plans to continue to do so for the next 10 years.The biggest road issues we have are with state highways, which fell badly behind during the fast-growth period of 1990-2006.Significant state highway projects typically take over 20 years from conception to construction.So catching up has been a slow process, but it's happening.
Recent, In-Progress, and Upcoming Improvements to State Highways:
GA Hwy 20 now being expanded to six lanes from Canton east to Cumming. Completion expected in 2026.
Bridge replacements in progress along Hwy 369, including intersection upgrade at Yellow Creek Rd.
GA Hwy 20 in design for expansion to 4 lanes from Canton west to meet existing 4-lane near I-75 in Bartow County. GDOT expected to start after completion of Hwy 20 East project.
Intersection of Highways 372 and 369 converted to roundabout.
I-575 interchange at Town Lake Parkway to be upgraded within the next two years.
I-575 interchange at Ridgewalk Parkway to be converted to diverging diamond for higher capacity.
On State Highway 140, Cherokee County has completed a corridor study identifying a series of projects to be locally led, to keep that road functioning until a major state upgrade GDOT has planned for 2035.

The County has set aside $7 million of SPLOST funds and has obtained additional funds from GDOT and ARC.
The first project is under construction now, to expand the intersection at East Cherokee Drive.
The second intersection expansion, at Batesville/Hickory Roads, will start this year or early next year.
Over the next five years:

The road section between East Cherokee Drive and Hickory/Batesville Roads will be 4-laned.
Turn lanes will be added all along the highway.
Intersections will be improved at Univeter Road, Avery Rd, Riverstone Blvd in Canton, and Reinhardt College Parkway in Canton, among others.
Economic Development:
Cherokee County Office of Economic Development widely recognized as one of the best in Georgia. The Board of Commissioners funds its core operations and provides seed money for economic development projects.
"Cherokee 75" business park has created about 2,000 new jobs and $500 million in new capital investment resulting in new non-residential tax revenue of more than $5 million per year.
County airport was expanded several years ago into a true business-class facility capable of handling most corporate jets. Now moving toward a second expansion to accommodate substantially all corporate jet traffic.
Moving now to open a new economic development corridor through appropriate property between Bluffs Parkway in Canton and the Cherokee Regional Airport near Ball Ground.
12,000-plus students introduced to skilled professions through the "Be Pro Be Proud" program.
Supported development and growth of the new regional hospital with extensive services and over 3,000 good new jobs.
The County Office of Economic Development has brought significant film industry investment to Cherokee County, with 49 film projects in 2021.
Housing and commercial development remains very strong, even with a responsible-growth land use plan that restrains quantity and improves quality.